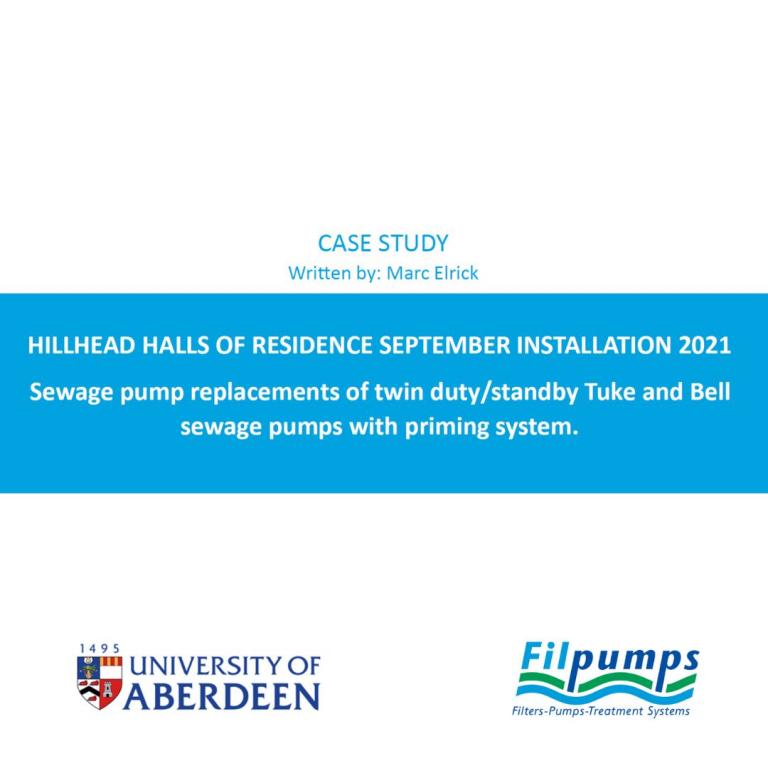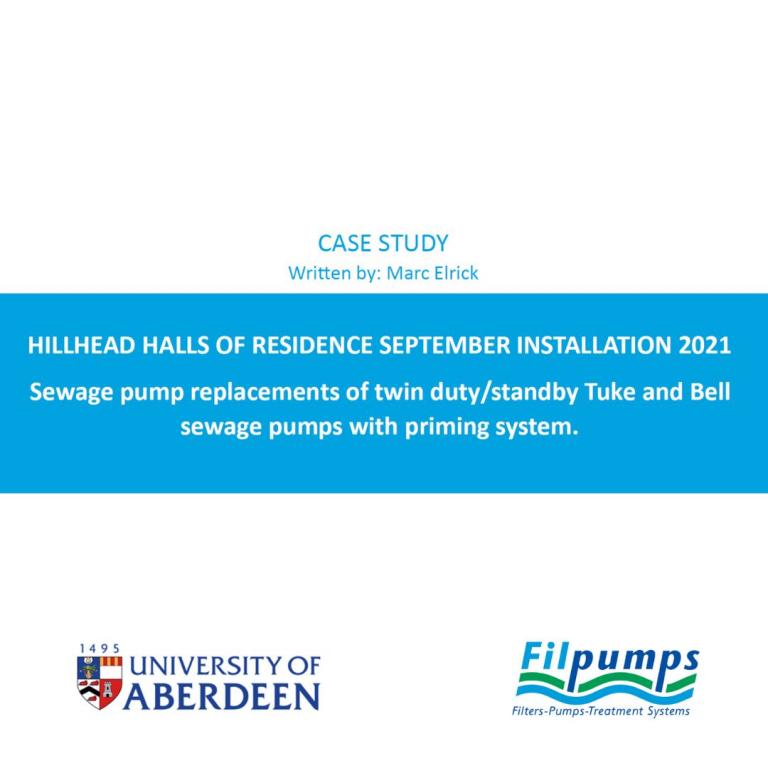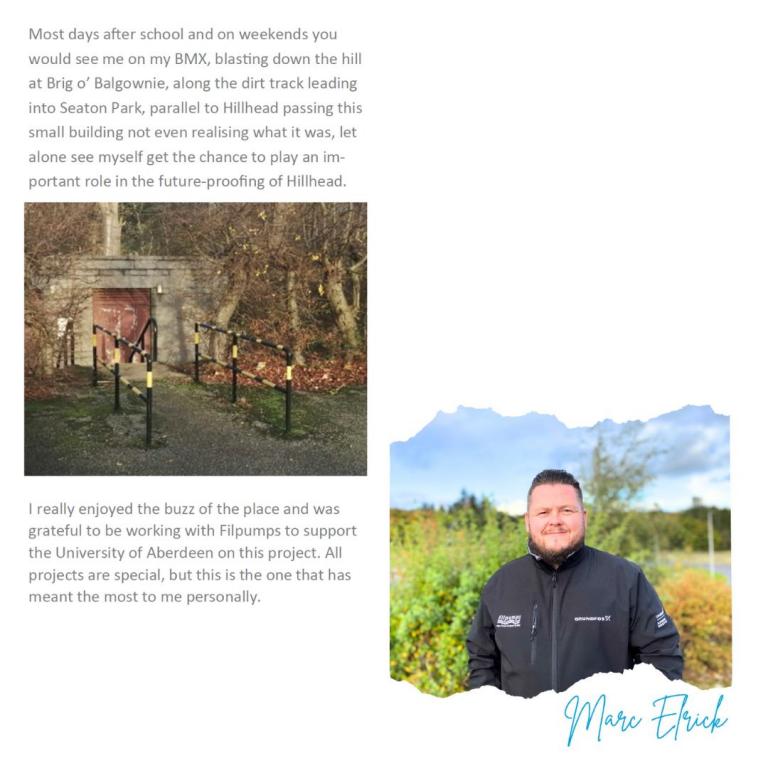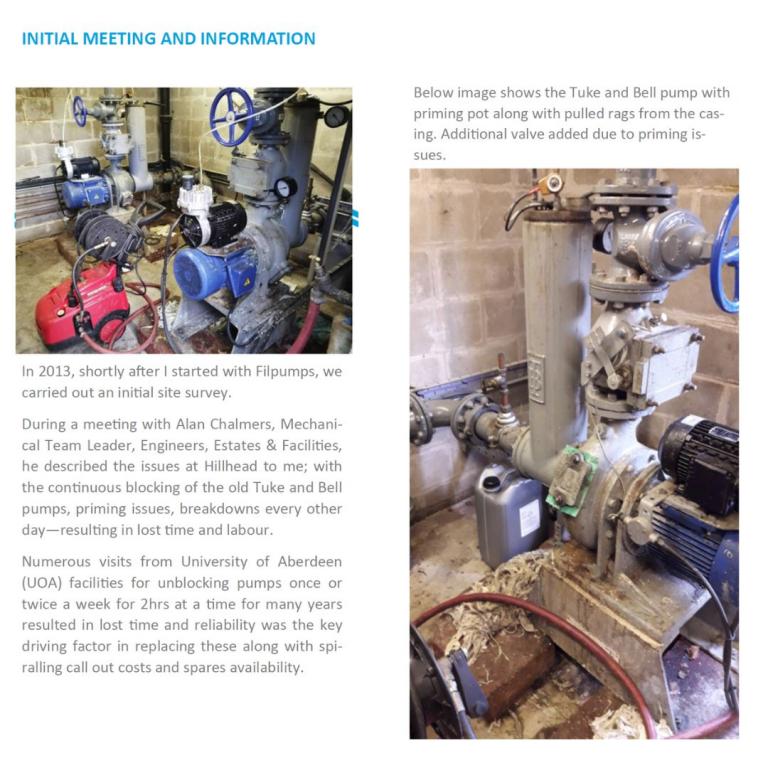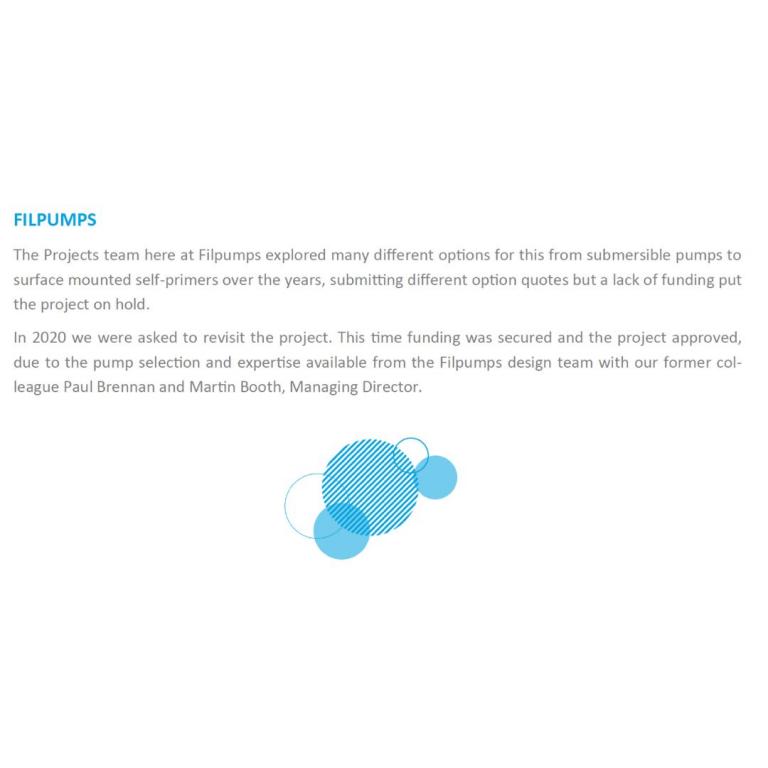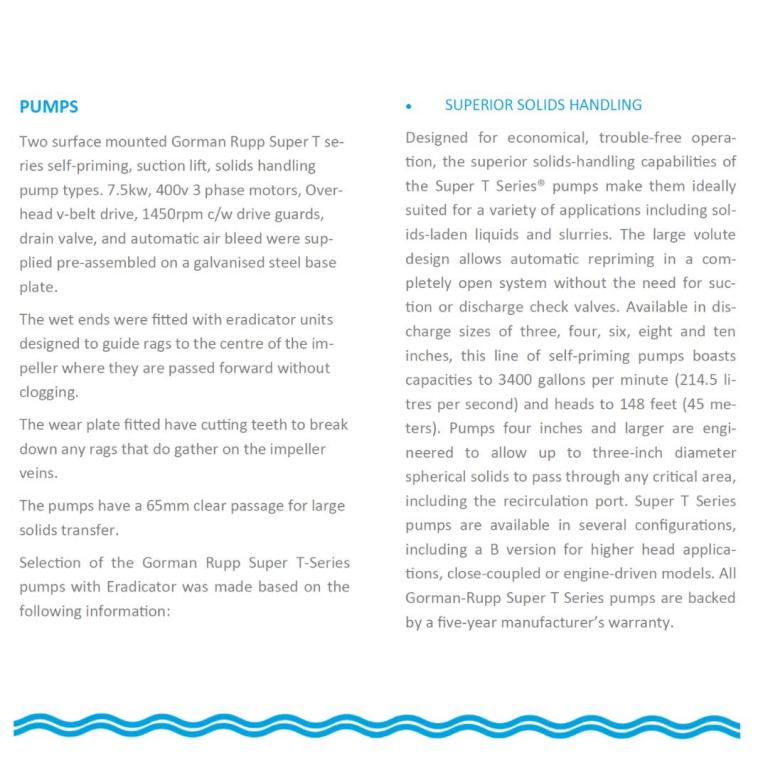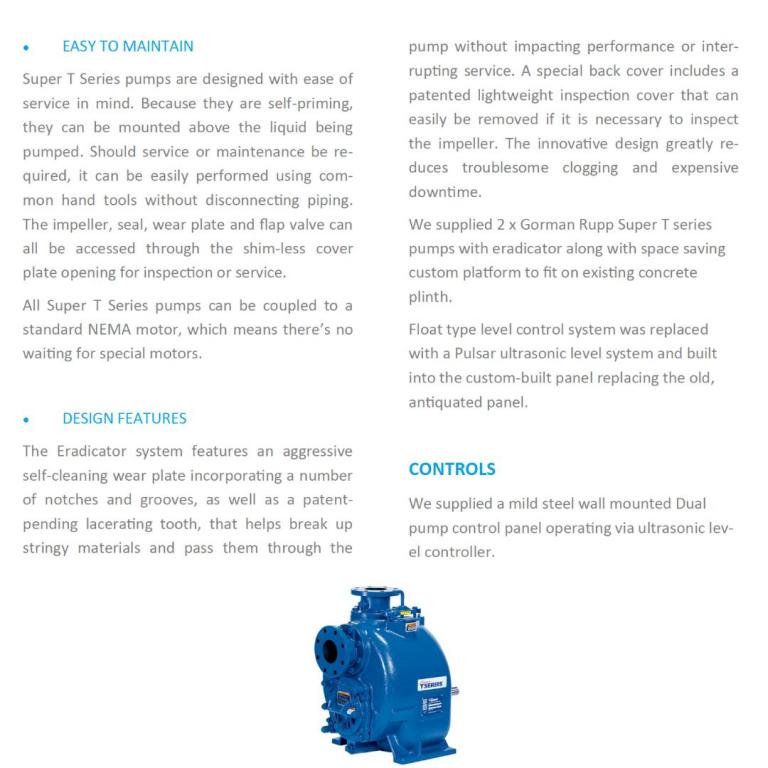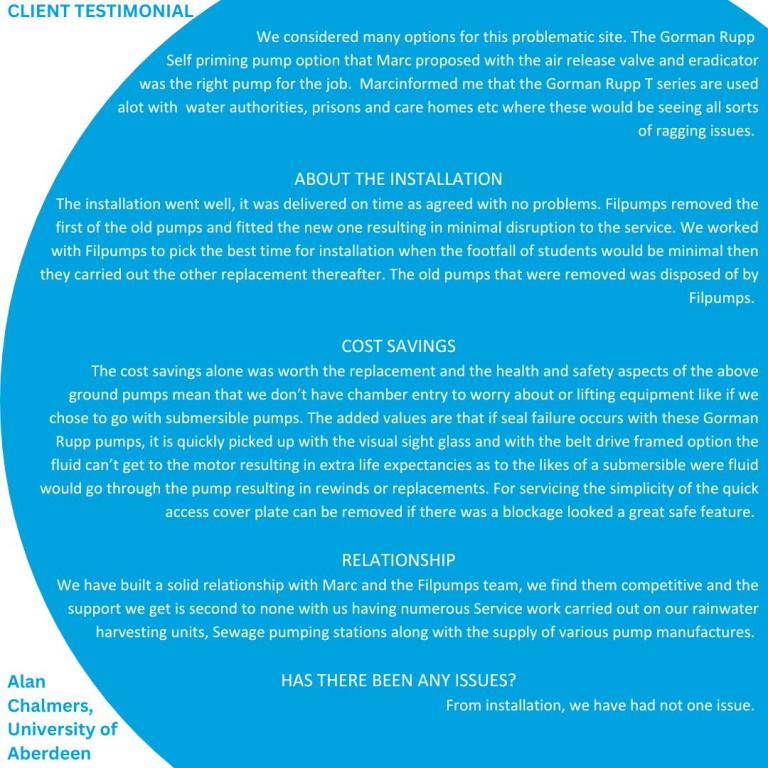 TEXT VERSION:
CASE STUDY
Written by: Marc Elrick
Hillhead Halls of Residence September Installation 2021
Sewage pump replacements of twin duty/standby Tuke and Bell sewage pumps with priming system.
BACKGROUND: My history with Hillhead
This job was so important to me personally, I grew up in Bridge of Don and spent most days around Seaton Park and Hillhead Campus.
Hillhead was built in 1968 and has around 2,000 students in residence each year.
My neighbour Janet worked there, my mother-in-law worked there, my wife's grandad was a porter there and my father carried out numerous refreshing flooring jobs there (and we would be roped in to help throughout our youth).
I spent many years walking through the campus to attend the Aberdeen International Football Festival that took place at Seaton Park for a number of years. It started in 1981 with the traveling teams, from all over the world, staying in the halls.
It was brilliant to see all the class youth players come to Aberdeen for this tournament which was fantastic for the city of Aberdeen.
I particularly remember the festival of 1988; hanging out with a team from the USA, The Oklahoma All Stars. I was showing them around Bridge of Don with a stop at my own house; demanding my mother make 20 cups of kia-ora for my new pals!
I would get tie pins and various other gifts from all over the world. We would swap addresses etc and just this year I received a message from one of the players.
Aberdeen FC trained at the park also so we would often see the players and pester them for autographs.
Most days after school and on weekends you would see me on my BMX, blasting down the hill at Brig o' Balgownie, along the dirt track leading into Seaton Park, parallel to Hillhead passing this small building not even realising what it was, let alone see myself get the chance to play an important role in the future-proofing of Hillhead.
I really enjoyed the buzz of the place and was grateful to be working with Filpumps to support the University of Aberdeen on this project. All projects are special, but this is the one that has meant the most to me personally.
INITIAL MEETING AND INFORMATION
In 2013, shortly after I started with Filpumps, we carried out an initial site survey.
During a meeting with Alan Chalmers, Mechanical Team Leader, Engineers, Estates & Facilities, he described the issues at Hillhead to me; with the continuous blocking of the old Tuke and Bell pumps, priming issues, breakdowns every other day—resulting in lost time and labour.
Numerous visits from University of Aberdeen (UOA) facilities for unblocking pumps once or twice a week for 2hrs at a time for many years resulted in lost time and reliability was the key driving factor in replacing these along with spiralling call out costs and spares availability.
FILPUMPS
The Projects team here at Filpumps explored many different options for this from submersible pumps to surface mounted self-primers over the years, submitting different option quotes but a lack of funding put the project on hold.
In 2020 we were asked to revisit the project. This time funding was secured and the project approved, due to the pump selection and expertise available from the Filpumps design team with our former colleague Paul Brennan and Martin Booth, Managing Director.
PUMPS
Two surface mounted Gorman Rupp Super T series self-priming, suction lift, solids handling pump types. 7.5kw, 400v 3 phase motors, Overhead v-belt drive, 1450rpm c/w drive guards, drain valve, and automatic air bleed were supplied pre-assembled on a galvanised steel base plate.
The wet ends were fitted with eradicator units designed to guide rags to the centre of the impeller where they are passed forward without clogging.
The wear plate fitted have cutting teeth to break down any rags that do gather on the impeller veins.
The pumps have a 65mm clear passage for large solids transfer.
Selection of the Gorman Rupp Super T-Series pumps with Eradicator was made based on the following information:
· SUPERIOR SOLIDS HANDLING
Designed for economical, trouble-free operation, the superior solids-handling capabilities of the Super T Series® pumps make them ideally suited for a variety of applications including solids-laden liquids and slurries. The large volute design allows automatic repriming in a completely open system without the need for suction or discharge check valves. Available in discharge sizes of three, four, six, eight and ten inches, this line of self-priming pumps boasts capacities to 3400 gallons per minute (214.5 litres per second) and heads to 148 feet (45 meters). Pumps four inches and larger are engineered to allow up to three-inch diameter spherical solids to pass through any critical area, including the recirculation port. Super T Series pumps are available in several configurations, including a B version for higher head applications, close-coupled or engine-driven models. All Gorman-Rupp Super T Series pumps are backed by a five-year manufacturer's warranty.
· EASY TO MAINTAIN
Super T Series pumps are designed with ease of service in mind. Because they are self-priming, they can be mounted above the liquid being pumped. Should service or maintenance be required, it can be easily performed using common hand tools without disconnecting piping. The impeller, seal, wear plate and flap valve can all be accessed through the shim-less cover plate opening for inspection or service.
All Super T Series pumps can be coupled to a standard NEMA motor, which means there's no waiting for special motors.
· DESIGN FEATURES
The Eradicator system features an aggressive self-cleaning wear plate incorporating a number of notches and grooves, as well as a patent-pending lacerating tooth, that helps break up stringy materials and pass them through the pump without impacting performance or interrupting service. A special back cover includes a patented lightweight inspection cover that can easily be removed if it is necessary to inspect the impeller. The innovative design greatly reduces troublesome clogging and expensive downtime.
We supplied 2 x Gorman Rupp Super T series pumps with eradicator along with space saving custom platform to fit on existing concrete plinth.
Float type level control system was replaced with a Pulsar ultrasonic level system and built into the custom-built panel replacing the old, antiquated panel.
· CONTROLS
We supplied a mild steel wall mounted Dual pump control panel operating via ultrasonic level controller.
CLIENT TESTIMONIAL
"We considered many options for this problematic site. The Gorman Rupp Self priming pump option that Marc proposed with the air release valve and eradicator was the right pump for the job. Marc informed me that the Gorman Rupp T series are used a lot with water authorities, prisons and care homes etc where these would be seeing all sorts of ragging issues.
ABOUT THE INSTALLATION
The installation went well, it was delivered on time as agreed with no problems. Filpumps removed the first of the old pumps and fitted the new one resulting in minimal disruption to the service. We worked with Filpumps to pick the best time for installation when the footfall of students would be minimal then they carried out the other replacement thereafter. The old pumps that were removed was disposed of by Filpumps.
COST SAVINGS
The cost savings alone was worth the replacement and the health and safety aspects of the above ground pumps mean that we don't have chamber entry to worry about or lifting equipment like if we chose to go with submersible pumps. The added values are that if seal failure occurs with these Gorman Rupp pumps, it is quickly picked up with the visual sight glass and with the belt drive framed option the fluid can't get to the motor resulting in extra life expectancies as to the likes of a submersible were fluid would go through the pump resulting in rewinds or replacements. For servicing the simplicity of the quick access cover plate can be removed if there was a blockage looked a great safe feature.
RELATIONSHIP
We have built a solid relationship with Marc and the Filpumps team, we find them competitive and the support we get is second to none with us having numerous Service work caried out on our rainwater harvesting units, Sewage pumping stations along with the supply of various pump manufactures.
HAS THERE BEEN ANY ISSUES?
From installation, we have had not one issue."
Alan Chalmers,
University of Aberdeen