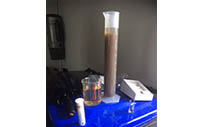 Filpumps would like to thank Alexander Kaufmann, Technical Director at Klaro Germany, and Eric Williamson of GRAF UK for their training programme recently delivered to Filpumps Engineers.
Over the course of 3 days Filpumps Engineers were trained in house and out on site by Alexander and Eric on the Klaro Units, One2Clean Treatment Systems and taking samples from the systems.
Alexander Kaufmann also visited the Aberdeen SEPA office as well as Sarah McGregor Geotechnical Services to discuss topics such as UV disinfection of waste water to treat pathogens and reduce faecal coliforms and other treatments beyond the normal treatment plants, which Filpumps can offer from GRAF.
For further details on treatment plants and services offered please contact Syd Ross, 01467 623010, 07884738792, or syd.ross@filpumps.co.uk