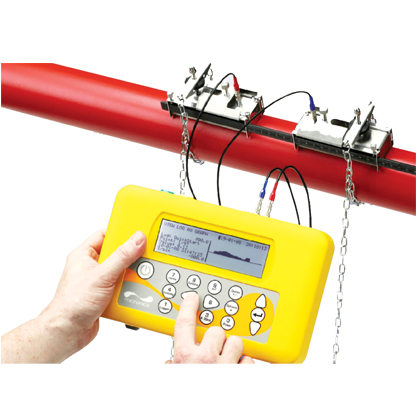 Clamp on Flow Meter
---
Clamp on Flow Meter
Clamp-on Flow Meter - Hire from £50 per day.
Non-Invasive Measurement of Liquid Flow
Bringing simplicity to the non-invasive measurement of liquid flow. Offering the user quick and accurate flow measurement with its easy to follow menu and simple set up. Results can be achieved within minutes of opening the case!
Compact, rugged and reliable, the Portaflow range has been designed to provide sustained performance in industrial environments.
How it works:
This transit time ultrasonic flow meter is designed to work with clamp-on
transducers, providing accurate measurement of liquid flowing within a closed pipe, without the need for any mechanical parts to be inserted through the pipe wall or to protrude into the flow system. It takes just a few minutes to install and there is no need to shut down flow or drain the system!
When ultrasound is transmitted between the transducers, the speed at which the sound travels through the liquid is accelerated slightly by the velocity of the liquid through the pipe. When ultrasound is transmitted in the opposite direction, the flow of the liquid causes the transmitted sound to decelerate. The subsequent time difference is directly proportional to the flow velocity in the pipe. Having measure the flow velocity and knowing th pipe cross-sectional area, the volumetric flow can be easily calculated.
Industries:
Water, Building Services, Energy Management, Power Generation, Chemical,
Pharmaceutical, Petrochemical, Food
Recommended for:
Potable Water, River Water, Cooling Water, Demineralised Water, Water / Glycol
Solutions, Hydraulic Oil, Diesel and Fuel Oils, Chemicals, Petroleum Products
Specification
• Carry Case: IP67 rated
• 'A' Transducers: 13 mm OD to 115 mm OD pipes
• 'B' Transducers: 50 mm OD to 2000 mm OD pipes
• Optional Transducers: 'D' for pipes > 1500 mm up to 5000 mm
• Transducer Operating Temperature: 'A' & 'B' -20°C to +135°C.
'D' -20°C to +80°C, 'A' & 'B' Optional Hi-Temp -20°C to +200°C
• Outputs: Opto Isolated 0/4 -20mA: RS 232/USB; 5 pulse @ 1 pulse/sec
max
• Data Logging: 98,000 data points. Up to 20 named recording blocks.
Data displayed logically in text or graph format. Real time or stored.
Can be downloaded via RS232 or USB port to Windows based PC
• Bluetooth Printer: Optional
Applications & Uses
• HVAC and energy system audits
• Check system meters
• Pump verification
• Boiler testing
• Leak detection
• Filter sizing
• Ultrapure water measurement
• Heavy fuel oil metering
• Condensate measurement
• Balancing systems
• Clean in place evaluation
• Fire system testing
• Hydraulic system testing
---

"Filpumps have supplied Deeside Mineral Water with a range of products over the last 15 years and we have always been very happy with the service and quality provided. We have no hesitation in recommending Filpumps."
Martin Simpson Managing Director Deeside Mineral Water

"Macduff Marine Aquarium has enjoyed a successful relationship with Filpumps Ltd for many years and we are pleased to have our vital aquarium life support systems installed and maintained by such knowledgeable and reliable engineers."
Witek Mojsiewicz, Aquarium Manager, Macduff Marine Aquarium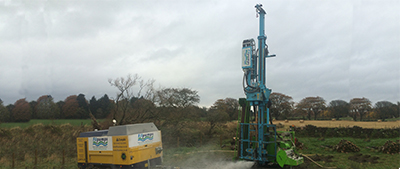 "Filpumps completed the (very professional) project perfectly to our satisfaction and on time."
Mr Hamilton Smith Forgie

"We have had the pleasure of using Filpumps for over 20 years now. We have found them to be very helpful, professional and knowledgeable and cannot fault their service that they provide. They are always quick to respond and go out of their way to help us."
Debbie, Manager, Happy Plant Garden Centre, Mintlaw